Studio View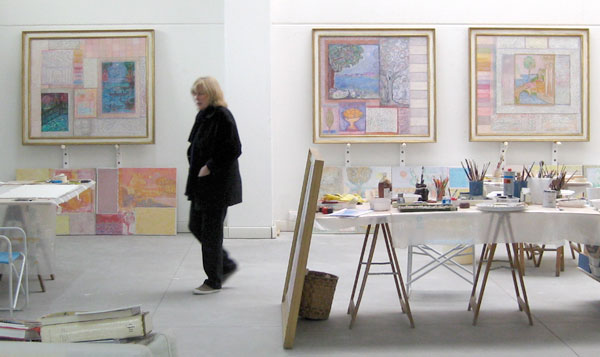 Janet Stayton's American roots have remained constant, even after she discovered the Mediterranean world. To understand her art, one must consider the physical and mental horizons of her life's itinerary. Her identity as an American painter is confirmed by exhibitions in major American cities including: New York, Chicago, St. Louis and Los Angeles. She is represented in important public and private collections internationally.
Stayton's studio has been based for many years in Italy, inspired by the rustic countryside and small villages of Tuscany and Liguria. Here began her exploration of the real and cultural landscapes of Italy as a sort of "Grand Tour" through the sites, monuments and art masterpieces that have fascinated so many artists, from antique times to the present. These creative journeys help to expand the artists awareness as she collects fragments meaningful to her work - fragments which become memory as well as reference.
I met with Stayton in her studio in Pietrasanta, an ancient 'city of art', where she has carved out her own "hortus conclusus" in the midst of old sculpture workshops; her studio fenced in with vines, ivy and bamboo - gated for privacy - the studio itself a large, open industrial space adjusted for a painter's work.
Stayton's paintings reflect a process, an evolution, a dynamic whereby the physical boundaries of the canvas do not limit the varied perspectives within the complex compositions of the work. The paintings have: open horizons, closed spaces, multiple frames - images sited indoors or outdoors - dialogues between opposing spatial ideas; resulting in a marvelous kaleidoscope of places, images and luminescent color.
She combines the actual material of the paint with drawing, collage and textural applications. "I am drawing and painting at the same time", commented Stayton on her working process. The dialogue between these processes enables her to reach that particular freedom and synthesis that defines her work.
Exerpts Dott. Maria Adriana Giusti text
Stayton catalog 2004 translated by Jon Watts
Concept
Janet: "My works illustrate fragments from life - numbers, words, phrases and idyllic vignettes from nature. Paintings within paintings - frames within frames, classical references as to architecture and arcadian views updated - all encased in contemporary visual language. Each image may represent a word, each word an image, the whole explicates the parts thereof.
I may be inspired by something I see, or read, or by an idea. It may be a visual idea or schema or it may be a color or image. Sometimes I feel a color shining behind my eyes ready to illuminate a painting - providing a stimulus to enter the work. I may be inspired by a subway wall painting or a great masterpiece in a museum - artists inspect and assimilate the art of others - a kind of passive robbery ....no work is new....under the sun..."
Process
Janet: "I work with mixed media - oils, pastels, watercolor - colored pencils - on paper or linen canvas. I paint multi-imaged works - could be 10 to 15 vignettes in each work, held together by the idea of the whole of the painting. I stop the painting at the moment the painting breathes for itself. At this point the artist must just step back and trust the painting."